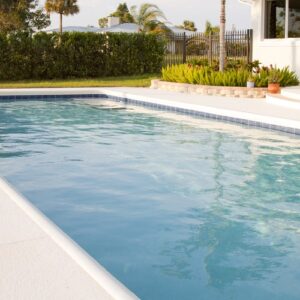 If you're selling a home with a pool, then you may be wondering whether it will help – or hurt – your home sale. Well, we have some good news for you! According to the National Association of Realtors, having an in-ground pool can increase your home's value by almost eight percent. When it's time to list your home with a pool, here's what you need know to make the most of this feature.
Make it look inviting
If your pool has seen better days, then it probably won't appeal to a potential buyer. Spend time making cosmetic updates and repairs before you put your home on the market. Clean up the grout and trim trees that hang over the pool. Keep the water clean and maintained so that it does not encourage the growth of algae. Nothing is more off-putting than a pool full of green water. If needed, hire a professional pool cleaner to clean and maintain your pool while your home is on the market. And in the summer, have the pool open and ready for swimming so potential buyers can imagine how wonderful it will be to use.
Have all the information ready
Another important thing to remember when selling your home with a pool is to have all the pool's information ready. Just as with any other home feature, buyers will want to know the history of the pool. Put together a binder that includes details on the pool's equipment and how it operates. Also include service records, repair records, and the contact information for anyone who has serviced or cleaned the pool. If you are currently using a professional cleaner, be sure to share that information as well.
Include all the necessary tools
Even if you're planning to move to a home with a pool, you should leave behind all the tools necessary for the upkeep of the pool. This includes cleaning gear, chemicals, covers, removable gates, and even pool toys. Buyers will be much more enthusiastic about the pool if they know they can begin using it on day one.
Be sure it's up to code
Many municipalities have regulations regarding residential pools. Make sure that your pool meets all these safety guidelines. In many cases, this will include having a barrier that separates the pool from the yard and house. You might also want to install self-latching and locking gates. This will be especially important to buyers that have young children.
Know your buyer
Take time to understand what kinds of buyers will be looking for a home with a pool. Let's face it – not all buyers will want the added responsibility of a pool. Trying to sell them on your pool can be wasted effort. Instead, focus on those buyers who will be excited about this feature. This could include high-end buyers, families with children, and adults who want a pool as part of their exercise regimen.
List at the right time
Finally, if your home has a pool, then you will want to list it at the appropriate time if possible. Why not capitalize on this great amenity? List in the summer when buyers will be spending the most time outdoors looking at your property. Stage the pool so that they can see how inviting it is to use. In fact, listing at just the right time could make your pool the feature that seals the deal!
Compliments of Greco Real Estate