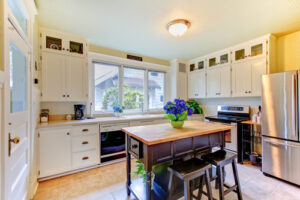 If you're hesitant to purchase an older home because you don't love the kitchen or bathroom cabinets and the idea of having to sand all of that wood makes you cringe, fear not … chalk paint to the rescue.
You haven't heard of chalk paint? Well, here's the scoop:
The original "chalk paint" (a trademarked name of the paint developed by Annie Sloan) allowed furniture restorers to create the shabby chic look on reclaimed painted furniture. The paint leaves a chalky finish (hence the name) until application of a wax finish and buffing.
With the development of specialty chalk paint mixtures, chalk paint allows for refinishing cabinets without sanding or priming. In fact, the technique used with chalk paint simply calls for brushing the paint on a clean surface, with a high quality chalk paintbrush, then finishing with a specialty wax to set the paint and add a glow to the cabinets.
Devotees of the process swear by it. To try the process with the original Annie Sloan Chalk Paint (ASCP), you'll find step by step instructions in blog posts like this one and even on YouTube. Various finishes from weathered and distressed to smooth require simple variations to the basic process.
The most common negative heard about ASCP is the cost. At nearly $40 for a quart of paint, critics say they achieve the same look for less using other brands and even their own mixtures.
Other similar brands include CeCe Caldwell's paints. These non-toxic, natural mineral paint products offer an eco-friendly alternative to other paint finishes. Being health-friendly makes these paints safe to use around children or family members with respiratory problems.
Websters offers a chalky paint powder to add to any brand of latex paint. They offer a variety of video tutorials to achieve different techniques, accents, layering options and even a process for painting on metal. Big-box DIY stores offer paints that give a chalky finish and are much less expensive than the designer brands, although professional furniture refinishers claim a variety of success levels with these. Two of these include Valspar Chalky Paint (available at Lowes) and Americana Décor (from The Home Depot).
Very brave Do-It-Yourself-ers may choose to create their own chalky paint recipes using latex paint mixed with plaster of Paris (powdered gypsum) and/or calcium carbonate or sanded grout. You'll find many different recipes, so only go this route if you have time to try different options before you tear your kitchen apart.
If you're planning to sell your home and worry that your outdated kitchen might hinder a sale, the chalk paint methods provide a smooth finish and instant update to any kitchen.
Compliments of Greco Real Estate