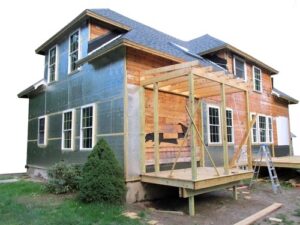 Owners of older homes dream of updating or modernizing kitchens and baths. In fact, before they place their homes on the market, some folks go to all the effort to update the kitchen they've been meaning to redo for years … only to have someone else enjoy it.
The challenge can be when the update is for the purpose of increasing your home's marketability or resale value. In that case, does the renovation really pay off? Here are some things to consider before you tackle that upgrade or renovations just to sell your property.
When it adds value:
Anything that increases your usable square footage adds value to your home. So, if you finish a basement or an attic space, add a wing or just extend a single room, that extra space and increase your home's market value. Adding a bathroom or bedroom is a substantial improvement that changes a home's category. A three-bedroom home with three full baths has more market value than a similar home with only two baths, or two bedrooms.
The biggest bang for you buck, however, can come from making some simple changes.
Consider this: a new front door, on average, adds up to 96.6 percent of the amount you will spend on it to the value of your home. Of course, you'll need to pay attention to which door will enhance your home and which might look like an afterthought, but the right new door adds instant curb appeal. In fact, even painting the front door can bring a significant improvement (without the extra expense of replacing it).
Other improvements, such as replacing windows or worn and discolored siding can yield a greater return than an expensive kitchen remodel.
Minor kitchen upgrades, on the other hand, can add back over 82 percent to the value of what you spend on them. A "minor" kitchen upgrade can be as simple as new cabinet doors and hardware, or new appliances, an updated counter surface and sink, or new fixtures.
When it's not worth it:
A $100,000 kitchen remodel on a $250,000 home will yield anywhere near that additional value to your home, especially if all of the other homes in the neighborhood are in the same price range. So, if you upgrade it while you're living in it because your love to cook and want the perfect kitchen … the value is your enjoyment of the upgrade. Don't expect it to increase your home's resale value by that much though when the time comes to sell.
Another upgrade that you should only undertake for your enjoyment is the addition of a pool. In general, a pool does not increase the value in many locations. So, while a pool may be highly sought after in Southern California or Texas, it could even be a detriment in Missouri or Tennessee.
When it doesn't pay off:
If you increase the value of your home while you continue to live in it, realize that you may be increasing your tax basis as well. A new assessment of your home may increase your taxes and cause it to be more expensive to live there. Simple improvements such as adding a garden shed can trigger a reassessment in some localities, while moving a wall or putting in an additional bath or bedroom most certainly will.
Before you take on an improvement, addition or upgrade for the purpose of increasing your home's marketability, talk to your local professional real estate agent. She can discuss with you the potential ramifications of the changes you want to make, the return on your investment and whether or not it could trigger a tax assessment and property valuation increase.
Compliments of Greco Real Estate
[subscribe-by-email-form]